AtlaXpress

AtlaXpress is a service that allows customers to use their Atlantic Bank Visa Debit Card to perform financial transactions in the convenience of their neighborhood. Customers can do a balance inquiry; withdraw funds; make bill, school and credit card payments, as well as recharge their cellular phone.
Requirements for Service:
Atlantic Bank Visa Debit Card
Valid ID ( Social Security Card or Passport)
Account and Customer Number for Bill Payments
Features of AtlaXpress:
Atlantic Bank customers can make Bill, School and Credit Card Payments; cash withdrawals, balance inquiry and phone recharge. Non-Customers can also make Bill, School Payments; and phone recharge by simply paying cash for their transactions.
1. Bill Payments:
Belize Electricity Limited
Belize Telemedia Limited
Belize Water Services Limited
2. School Payments:
Chunox St. Viator Vocational High School
St. Catherine Academy
Ladyville Technical High School
Sacred Heart College
Galen University
St. John's College
University of Belize
3. Credit Card Payments

4. Transfer Between Accounts

5. Withdrawals (Maximum of $300 per day)

6. Balance Inquiry
7. Phone Recharge
Belize Telemedia Limited
SMART
Cost of AtlaXpress Services: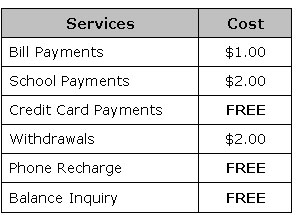 Features of AtlaXpress:
AtlaXpress Merchants are conveniently situated at supermarkets and gas stations near you. Click HERE for a list of merchants.