Placencia Branch paints canteen at St.John's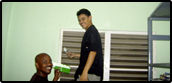 Last Year, the Placencia Branch donated equipment and utensils to the St. Johnís Memorial School Canteen as a part of their community involvement initiatives.
On Friday August 1st, 2008, members of the Placencia Branch came together once again to participate in Phase II of the project. This year the staff enthusiastically painted the Canteen at St. Johnís Memorial School, much to the delite of Principal, Mr. Rodney Griffith.
The branch is excited about their contribution and expects that the children, staff, parents and community of Placencia will enjoy the Canteen's new look.
For additional information about this press release, please contact the Marketing Department.