A positive contribution to Do Di Rait Ting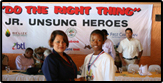 The Police Departmentís Do Di Rait Ting award program is an ongoing recognition initiative for high school students whose energies are focused on making a positive difference. On Wednesday, July 30, 2008 twenty-nine high school students from across the country were recognized for their positive contribution in the community. From these twenty-nine students, ten received tuition scholarship and book allowances to continue with their tertiary education. Students were selected based on their positive accomplishments, behaviors, academic success and community service.
Atlantic Bank Ltd. did the right thing by making a contribution of $1,000.00 towards the 9th and 10th place winners. Our aim is to contribute to organizations that assist in improving the livelihood of our youths and promoting socially desirable behavior. Next year we aim to assist the Belize Police Department, youths and the community even further by working closely together to ensure the future success of this initiative.
For additional information about this press release, please contact the Marketing Department.